It has been snowing non-stop today (and a lot of yesterday!).  It is so pretty...so fresh and so clean...oh, and so cold!!!!  I do love it, though.  Something about being inside, sipping on hot chocolate while watching the snow fall is just peaceful.  I wouldn't trade a day like today for anything!  To be honest, three out of the the five of us are still in our pajamas!  It's been a good day!!!
Here is a picture of our street.  I can't even begin to count how many times the snow plows have cleared the street!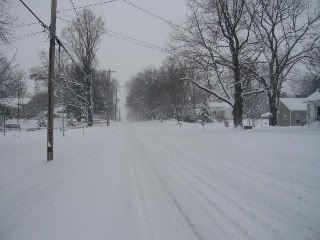 I took this picture while standing on my front porch looking toward the street...

Just a random self portrait...