Lindley is doing so well adjusting to our family! She is definitely the little princess of the house and adored by all! She has Daddy wrapped around her sweet little finger already. I can't get over how different it is to have a girl…I didn't realize how much I wanted her to be a girl until she came out a girl! I'm not much of a girly girl myself, but I'm having so much fun picking out which outfit she'll wear, what bow matches that outfit, looking at girly stuff online, etc… I never had much joy deciding on clothes for the boys! She is growing well…at her two week appointment last week, she weighed in at 9 lbs 4 oz, so way over her birth weight! She also grew 1/2"! She does great with tummy time, loves her baths, sleeps great, and rarely cries. She is already very predictable in her schedule, which makes life easy for me! What a doll!!!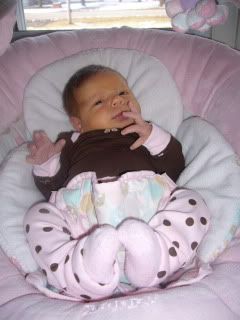 Her first baseball glove!!! It's bigger than her!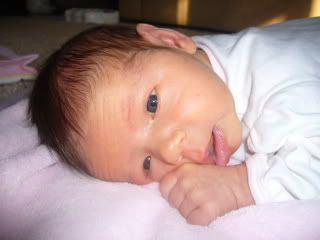 Our friend Julie has been arranging meals for us…it has been so nice to not have to worry about cooking right now. This is a chicken pot pie that my friend Sara made for us…delicious! I loved the "L" in the center! What love!