Thursday, April 22, 2010
The other day Isaac built a tent of pillows over Lindley. It was adorable watching him interact with her!
Pretty sure he's trying to make her smile here!
Lindley in her "tent!"
Posted by ferniBlog
at 10:04 PM
2 comments

Friday, April 16, 2010
I did it. I pierced my sweet baby girls ears. And they look absolutely, positively adorable!!!
Posted by ferniBlog
at 4:14 PM
4 comments

Wednesday, April 7, 2010
It has been way too long since the boys have had a haircut! Well, it actually hasn't been all that long, their hair just grows crazy fast!
Isaac--Before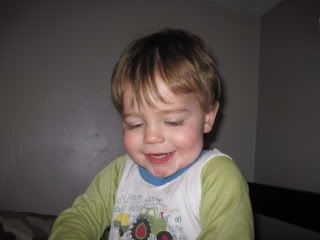 Posted by ferniBlog
at 4:14 PM
2 comments

Posted by ferniBlog
at 11:09 AM
2 comments

Posted by ferniBlog
at 11:07 AM
1 comments